What is an IP Rating (Ingress Protection)?
Whilst shopping for outdoor or bathroom lighting you may have seen the term 'IP rating' appearing. This code is a simple way to indicate how well-protected a lighting product is from external influence.
Below is our brief introduction about Ingress Protection. Full details can be found in the latest copy of the International Ingress Protection Code - BS EN 60529
What is Ingress Protection?
Ingress protection determines if an electrical product's exterior case or enclosure will protect the working parts from water, dust or solid object intrusion, keeping the product electrically safe and lasting longer. Ingress protection testing, or IP testing, provides a repeatable test standard to compare the enclosure protection; IP testing should always be performed at an accredited test laboratory.
What does IPXX Stands For?
IP
2
3

Ingress Protection

Solids

The first digit in the IP rating stands for the level of protection against a solid object from a hand to dust.

Water

The second digit in the IP rating stands for the level of protection against pure water from 1mm of rainfall to temporary immersion up to 1m.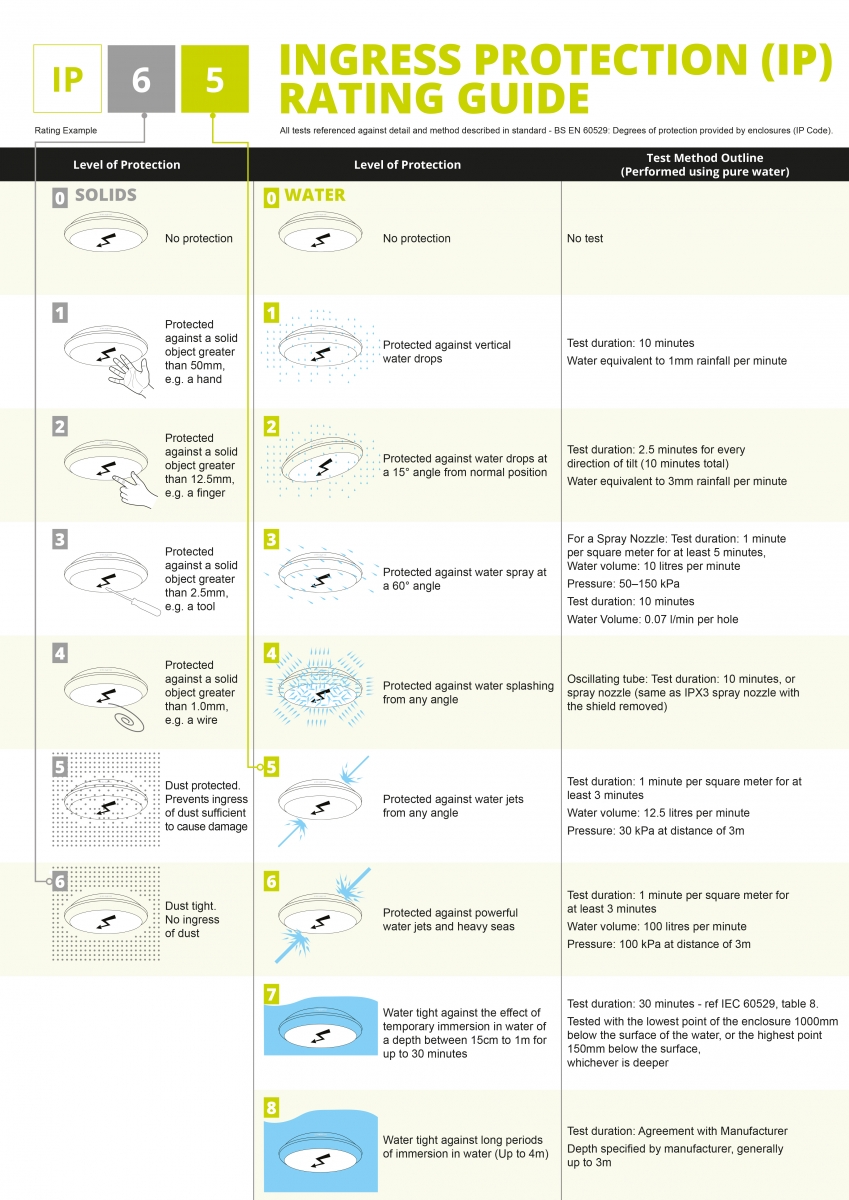 What IP Rating Shall I Choose?
The following is our advice to you when purchasing products for particular environments around your house. This advice covers specific minimum requirements to meet regulation but we must advise that all installations are completed by a fully trained and accredited electrician who will ensure the electrical supply system and cabling requirements are met specific to your required installation.
Outdoor Lighting
Security Lighting – Security lighting needs to be durable and protected. When looking at security lighting you should aim for products at IP44 up to IP68. If you wish to place your security light in a completely unsheltered area we recommend a product such as our Compact Tough Floodlight which has an IP65 rating leaving it dust-tight and protected from water jets. Any product placed on the ground where surface water is possible should be minimum IP67.
Garden – Planning on re-designing your garden? Depending on the positioning of your lights we recommend products of IP54 up to IP65. Our Geolux Outdoor light is just one of the elegant and modern luminaires on offer at Integral with an IP65 rating making it ideal to display in your garden completely unsheltered. Alternatively, you could go for the Lux Stone which is one of our IP54 rated decorative outdoor luminaires, which still offer ideal protection for installation on your garden porch.
Path Lighting – Integral offer an outdoor luminaire designed specifically for path lighting. The Pathlux collection is available in a number of colours and shapes, with a rating of IP65. This means it will be protected against extreme dust and rain conditions, making it a hardwearing and attractive path lighting solution.
Bathroom Lighting
When it comes to bathroom lighting there are strict regulations on minimum requirements for Ingress Protection regulations regarding the type of lighting you are allowed to use. Full details can be found in the latest copy of the IET Wiring Regulations – BS 7671. A brief overview can be seen below.
Zone 0 - Inside the bath or shower itself. Any fitting used in this zone must be low voltage, (max 12v) and be rated at least IP67 like our selection of IP67 Strip lighting, which is totally immersion proof.
Zone 1 - Above the bath or shower to a height of 2.25m from the floor. In this zone a minimum rating of IP44 is required but it is generally accepted that IP65 is to be used. It's also worth noting that most shower lights are rated at IP65 in any case. We recommend our selection of Fire Rated Downlights which are all rated IP65 and ideal for bathrooms, especially our sleek Evofire range. For ceilings in excess of 2.25m we would advise using IP65 products in Bathrooms, but there is no minimum restriction on this required by the regulations.
Zone 2 - An area stretching 0.6m outside the perimeter of the bath and to a height of 2.25m from the floor. In this zone an IP rating of at least IP44 is required. We recommend our IP54 Slimline wall lights. In addition it is good practice to consider the area around a wash basin, within a 60cm radius of any tap to be considered as zone 2.
Outside Zones - Anywhere outside zones 0, 1 and 2 (subject to specific limits) and where no water jet is likely to be used there are no special IP requirements. However you should consider a light fitting with an IP rating of at least IP20+ in these areas. For bathroom ceilings outside of the zones we suggest an IP rating of IP65.
In addition to the above, if there is a likelihood of water jets being used for cleaning purposes then a fitting rated with a minimum of IP65 must be used.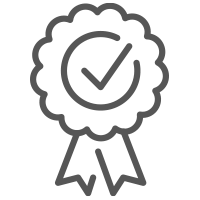 HIGHEST
QUALITY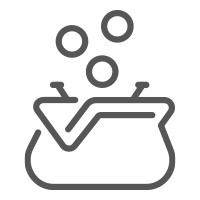 COMPETITIVE
PRICES
EXPERTISE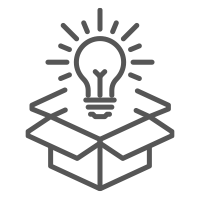 EXTENSIVE
STOCK